Helen L. Batts 90, of Frankfort, died at 10:28 a.m. February 21, 2018 at Wesley Manor.  She was born March 10, 1927 in Clinton County to Bernardo D. & Mabel (Gardner) Lee.  She married Rayburn Batts on May 1, 1949 at the First Methodist Church in Frankfort and he survives.
Helen was a 1945 graduate of Frankfort High school and was a lifelong Clinton County resident.  She worked for Peoples Life Insurance, Clinton County Recorder's Office, Alden's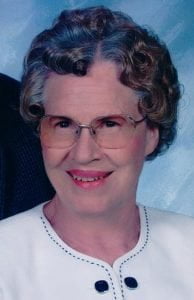 Department Store and The Farmers Bank, retiring from there in 1988. Helen was a member of the First Church of the Nazarene.  She enjoyed gardening, flowers, baking cakes and decorating them, but most of all she enjoyed her grandchildren.
Family: Husband:  Rayburn Batts of Frankfort, Ind., 2 Sons:  Jerry (Paulette) Batts of Frankfort, Ind. and Steve (Debbie) Batts of rural Frankfort, Ind., Daughter:  Sandra (Fritz) Mark of Spokane Valley, WA, 2 Sisters:  Barbara Luper of Frankfort, Ind. and Marian Guffy of Kirklin, Ind., Brother:  Richard Garner Lee of Monticello, Ind., 6 Grandchildren, Andrew, Gwen, Amber, Ryan, Scott and Jacob and 1 Great Granddaughter:  Makena.
Services:
 Funeral services will be 3 p.m. Saturday, February 24, 2018 at Goodwin Funeral Home, with the visitation beginning at 1 p.m. until time of service at the funeral home.  Burial will be in Green Lawn Memorial Park.  Memorial donations may be made to the Alzheimer's Association or Wesley Manor Employee Appreciation Fund.  Please visit goodwinfuneralhome.com, where you may share a personal message with the family.