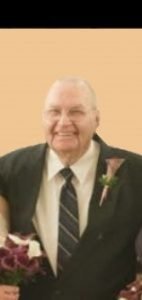 Henry "Clay" Turner, 86, of Flora, passed away on Tuesday, October 26, 2021, at St. Elizabeth Healthcare in Delphi. He was born on February 5, 1935, in Vernon, Alabama to Marvin Grady and Addie (Crawford) Turner. He married Bertie K. Hall on June 25, 1955; she preceded him in death on September 29, 2010.
Clay worked for Globe Valve for 34 years. He was always known for going above and beyond for anyone and everyone; but when it came to family, he was always opening his own home to care for them. Clay always enjoyed working for the local farmers in Carroll County. He was a member of Valley View Baptist Church.
He is survived by four daughters, Lynn (John) Harshbarger of Flora, Judy (Dave) Sieber of Bringhurst, Leslie (Mike) Miller of Lafayette, and Lisa (Nick) Beaver of Flora; two brothers, James (Dorothy) Turner and Bill (Brenda) Turner, both of Alabama. He is also survived by 11 grandchildren and 23 great-grandchildren.
He is preceded in death by his parents, five sisters, and three brothers.
Visitation will be on Sunday, October 31, 2021, from 12-noon until 3:00 p.m. at Genda Funeral Home in Flora. A graveside service will directly follow with Ted Lucas officiating in Maple Lawn Cemetery.
Memorial contributions in Clay's honor may be made to American Heart Association.
Online condolences may be directed to www.gendafuneralhome.com.