Carroll Cougars ladies took on visiting Caston  tonight at Carroll High School. Don and Karl were there on hoosierlandtv to bring you the game live.
The game is in our archives so you can enjoy at your convenience. The Sassy Salon's player of the game is Carroll's Jamilah Tillman. Jamilah scored 17 points in the game where the Lady Cougars beat Caston 53-44.
Jamilah is pictured here with her family after the game.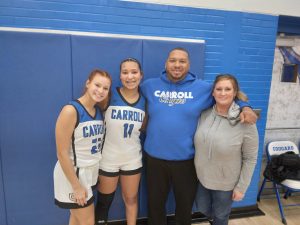 As always we thank our sponsors
Sassy's Salon in Delphi, Winski's, Jimmy Ewing Appliance Repair, Wampler Services, Inc., Jerry's Body Shop, Newell Gas, Frankfort Eagles 976, The Farmers Bank, Culligan of Boone and Clinton County, Sound Check Of Lafayette, Encompass Credit Union