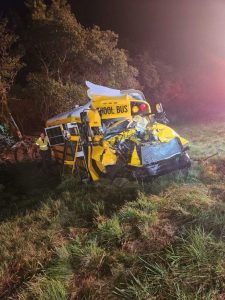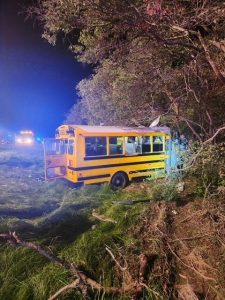 At approximately 11:15 p.m. Thursday, the Lowell Regional Dispatch Center received 911 calls of a crash involving a school bus and a semi on I-65, northbound lanes at the 222 mile-marker. This location is two miles north of the Fair Oaks exit. Troopers responded to the scene and located a school bus in the right ditch.  The driver of the bus was pinned in the vehicle, but he was alert.  Preliminary investigation by Trooper Ketring shows that the driver of the bus rear ended a semi in the right lane.  The semi initially pulled over and Good Samaritans stopped to render aid to both the driver of the bus and the semi driver.
However, the semi driver suddenly drove away.  While troopers and first responders attempted to extricate the driver of the bus, another trooper was able to locate the semi that left the scene, parked in the rear of the Love's Truck Stop located on S.R. 10 in Jasper County.  The trailer of the semi had substantial damage and it was quite apparent that the vehicle had been involved in a significant crash very recently.  The driver of the semi was also located and gave statements inconsistent with what had happened on the interstate.  The driver of the semi, Aregay Tesfay Gebremariam, 57, from Atlanta, GA, was taken into custody and transported to the Jasper County Jail.  He is preliminarily charged with Leaving the Scene of a Crash Involving Catastrophic Bodily Injury- a level 4 felony.
The driver of the bus, who was the only occupant, was trapped inside of the bus for several hours while the fire department worked to extricate him from the vehicle.  Once removed, the driver was transported to Franciscan Health Hospital in Rensselaer and later taken to a hospital in Chicago for treatment of potential life-threatening injuries.
This bus, while it is designed to be a school bus, was new and was being driven to another location.  It was not transporting passengers at the time of the crash. The bus is owned by Norton Transport Inc. located in Rock Spring, GA. The semi is owned by Weini Transportation LLC, based in Charlotte, NC. Inspections of both the bus, the semi, and trailer will be completed by the Indiana State Police Commercial Vehicle Enforcement Division. Alcohol/drugs are not suspected to be factors in this crash.