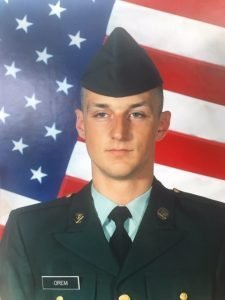 James D. Orem, 36, of Colfax, passed away Sunday, November 3, 2019 at IU Health Frankfort Hospital.  He was born January 7, 1983 in Lafayette to David Sloan and Staci (Bolen) Orem.  He attended Clinton Prairie High School.  James served in the United States Army and was stationed at Iraq, Kuwait, and Afghanistan.  He was a member of the VFW, Eagles, and enjoyed golfing, riding motorcycles, skydiving, scuba diving, playing and watching sports, especially football, traveling, going to Cedar Point, but his true love was being with his family.
James is survived by his parents, David (Tana) Sloan of Anderson and Staci Orem of Colfax; son, Jaxon Orem of Melbourne, FL; Sister Mindy (Adriana Gonzalez) Bratton of Colfax; step-sisters, Mandy Russell and Michelle Cross, both of Anderson; grandparents, Ida Bolen of Colfax and P.J. (Rita) Bolen of Frankfort; uncles, Glen Bolen, Terry Bolen; aunts, Sheri Hutchison, Nancy Krause, and Virginia Castaneda; nephew, Alex Bratton; and several cousins.
He was preceded in death by his grandparents, David G. Sloan and Wanda Richmond.
Visitation will be from 4:00 – 8:00 p.m., Friday, November 8, 2019 at Genda Funeral Home in Frankfort.  Military rites will be held.
Memorial contributions may be made to the funeral home in care of the family to assist with funeral expenses.
Online condolences may be made at www.gendafuneralhome.com.