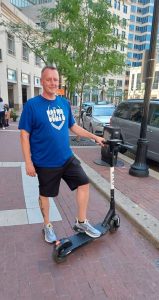 Jayson E. Martin, 43, formerly of Frankfort, passed away on Monday, October 19, 2020 in Milwaukee, Wisconsin.  He was born in Frankfort on November 13, 1976 to Jay Martin and Tammy (Daily) Martin Janz.
Jayson had lived in Milwaukee for the past 10 years and worked in car sales.  He loved all sports and was especially a fan of the Indianapolis Colts, Green Bay Packers, and Milwaukee Brewers.
Jayson is survived by his mother; his son, Taylor Martin; his companion, Beckie Koier; his brother, Wesley Janz; his sisters, Brooke Rose of Massachusetts and Ali Linn (husband, Matthew) of Waynetown; his uncles, Jon Martin and Jorge Martin; and his aunts, Janna Miller, Donna Myers, and Jenny Snodgrass.
He is preceded in death by his father.
Private family services will be held.
Memorial contributions in Jayson's honor may be made to American Diabetes Association, 8604 Allisonville Road, Suite 140, Indianapolis, IN 46250.
Online condolences may be directed to www.gendafuneralhome.com.