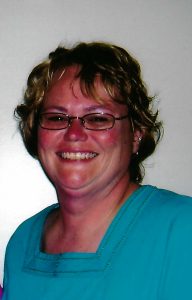 Jennifer Royer, 50, of Frankfort, passed away surrounded by her family, Monday, July 15, 2019 at Aperion Care in Frankfort. She was born June 20, 1969 in Frankfort to Michael Murphy and Wilma (Godbey) Cottrell. She was a 1987 graduate of Frankfort Senior High School and a 1989 graduate of Indiana Business College. She worked several jobs through the years, including Union Planters Bank, Schulz IGA, and Abilities Services. Jennifer was known as a strong-willed woman that enjoyed bowling, camping, fishing, and baking amazing cakes to celebrate birthdays and special occasions with her family and friends.
Jennifer is survived by her husband of 25 years, Gordon Royer; son, Dakota Royer of Frankfort; sister, Shannon Akers of Frankfort; Brother, Lance (Rochelle) Murphy of Forest; Stepmother, Markeeta Murphy of Forest; step-sister, Monica (Scott) Murphy-Blackburn of Forest; step-brother, Ryan Cox of Forest; grandmother, Vivian Godbey of Frankfort; several cousins including "Sister-Cousin," Selena Best of Frankfort; and many aunts, uncles, nieces, and nephews.
She was preceded in death by her parents; stepfather, Jasper Cottrell; and grandparents, Ezra Godbey and Murl and Effie Murphy.
Visitation will be held Friday, July 19, 2019 from 11am until the time of the service at 1pm at Genda Funeral Home in Frankfort. Burial will follow at Bunnell Cemetery.
Online condolences my be made at www.gendafuneralhome.com.