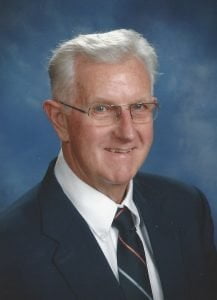 Jerry E. Doyle, 77, of Mulberry passed away on Friday, November 24, 2017 at Mulberry Health. He was born May 9, 1940 in Mulberry to Ernest Russell and Virginia (Felix) Doyle.
Jerry was a 1958 graduate of Mulberry School and a lifetime area resident where he served on the town board for several years and attended Mulberry United Methodist Church. He was retired from ALCOA after 30 years of service and was former owner of the Mulberry Pizza King.
On February 2, 1963 in Mulberry, Jerry married Nancy J. Sutton and with whom celebrated their 54th wedding anniversary. They enjoyed spending time in their RV and together traveled to all but just one state in the United States.
Nancy survives with their children, Russ (Jana) Doyle of Frankfort, Julie Doyle of West Lafayette and Tom (Heather) Doyle of Lafayette; six grandchildren; 2 great-grandchildren with one on the way and one brother, Ron Doyle of Florida.
He was preceded in death by his parents and one sister, Shirley Wampler.
Visitation for Jerry E. Doyle will be held from 4-7:00p.m. on Tuesday, November 28, 2017 at the Genda Funeral Home – Mulberry Chapel and one hour prior to the funeral service beginning at 11:00a.m. on Wednesday, November 29, 2017 at the funeral home. Burial will follow at Fair Haven Cemetery.  In lieu of flowers, memorial contributions may be made to either Mulberry United Methodist Church Trustee Fund (PO Box 339, Mulberry, IN 46058) or to the Michael J. Fox Foundation for Parkinson's Research (PO Box 4777, New York, NY 10163).  Online condolences can be made by visiting www.gendafuneralhome.com