Jerry Edward Ray, 81, of Syracuse, passed away at his home after a brief illness, Friday, December 23.  He was surrounded by his children and grandchildren.
He was born in Frankfort, IN on August 9, 1941, to Joseph E. and Martha F. (Unrue) Ray.
On December 24, 1964, Jerry married Connie C. Bellman in Ligonier, IN.  She preceded him in death in 2014.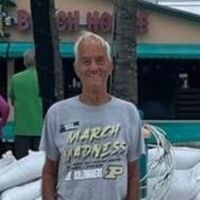 Jerry graduated from Frankfort High School in 1959.  He enlisted in the United States Marine Corps and served from June 1959 to June 1963 with tours of duty at Pendleton, CA; Camp Lejeune, NC and Pearl Harbor, HI.  While serving in CA, on his days off, he worked as a cook at the Space Bar at Disneyland. He talked very fondly of his time in the Marines and was proud to have served his country.
After the service and marrying Connie, Jerry worked a lot of jobs until he found his niche as an entrepreneur.  He was a jack of all trades, a self-learner and very hard worker.  He founded a small manufacturing business, J&M Manufacturing, which produced aluminum truck caps and pontoon boat tops.  He was a very successful and smart businessman.
Jerry enjoyed playing tennis and golf. He was the first tennis coach at West Noble High School and he built a successful tennis program from 1979-1990.  His team, which included his son Shane, won the Sectional in 1985.  This was one of his proudest accomplishments.
Jerry and his wife Connie were avid Purdue fans and they loved to travel.  Many of their travels took them to Purdue golf outings, bowl games and NCAA tournament games.  He was a long time John Purdue Club member as well as football and basketball season ticket holder.  In his last days, he enjoyed watching basketball games and he loved that his beloved Purdue Boilermakers were undefeated and ranked #1.  When he learned that his illness was terminal he said, "maybe I can go out when we're number 1!".  He got that wish.
Jerry was a member of the Cromwell Masonic Lodge.  He spent many years volunteering for the Shriner's driving children and their families to the Crippled Children's Hospital. He also volunteered at the annual Shrine Circus, helping wheelchair bound children.  Jerry had a passion for kids.  He was a wonderful grandpa to his seven grandkids and any other kid who crossed his path.  He took many of his grandkids' friends and cousins on trips to Purdue ballgames.
Jerry never met a stranger and it seems everywhere he went, he ran into someone that he knew.  He loved his dinner dates with his grandkids at Culver's.  He left an indelible mark on everyone he met. He leaves behind many, many friends and acquaintances, including his special friends and neighbors on Lake Wawasee, especially Sherman & Karen Goldenberg and Jim & Carol Boone.  His family will forever be thankful for the love and care that they gave Jerry and Connie during their years on the lake.
In his last few years after Connie passed, he spent more and more time at his condo in Bonita Springs, FL.  He loved warm weather and his Bonita Beach and Tennis club family.  He played pickleball and walked the beach daily.  He was in Florida during Hurricane Ian and was proud to tell you that he had survived a hurricane.   His family is grateful for his Florida friends who spent time with him, took him into their homes and kept an eye on him these last few years.
Surviving are his three children: Shaun L. (Matthew) Mawhorter of Goshen, IN; Shane E. (Lisa) Ray of Brownsburg, IN; and Stacy L. (Travis) Steele of Ligonier, IN; seven grandchildren:  Blake Mawhorter, Walker Donley, Madison Ray, Brooke Mawhorter, Alison Ray, Bridget Mawhorter and Trevor Steele.  He is also survived by his brothers William J. Ray, Joseph E. (Linda) Ray, Jr.; sisters Carolyn S. (Robert) Blubaugh, Marolyn A. (Terry) Hale and Sandy L. (Maribeth Petrizzi) Ray.  He is preceded in death by his parents, his wife and a brother, Robert L. Ray.
A funeral service in Mr. Ray's honor was held at 11 a.m. Thursday, December 29, at Yeager Funeral Home.  Burial was at Sparta Cemetery in Kimmell.
There wasa time of visitation from 3 to 7 p.m. Wednesday, December 28 and for an hour prior to the service at the funeral home.
In lieu of flowers, memorial contributions may be directed to the Shriners Crippled Children's Hospital.