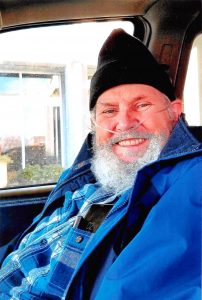 John Allen Cunningham, 66, of Scircleville, went to his heavenly home on Sunday, March 31, 2019, at IU Health Frankfort Hospital surrounded by his family. He was born September 5, 1952, in Homestead, Fla., to Necia Mae (Freeman) Cunningham. On December 5, 1971, he married Linda Pullen; she survives.
In 1971, John graduated from Clinton Central High School. Throughout his life, John worked at General Battery, Wilson Sinclair, Akard's Service Station, and later retired from Chrysler in Kokomo. He was also owner and operator of Pro Mowing for over 20 years and J & L Rainbow grocery store. John was a member of Local 685 United Auto Workers and former member of Scircleville United Methodist Church. He enjoyed fishing, mowing the lawn, and coaching Little League Baseball, but his true love was spending time with his kids and grandkids.
In addition to his wife, John is survived by his daughters, Heather Anderson, of Frankfort, Danielle (Damein) Edmonds, of Indianapolis, Angela Marie Garland, of Lafayette, and Kristi (Craig) Allen, of Frankfort; 17 grandchildren; Kurt, Travis, Dalton, Johnny, Breckin and Ethan Anderson, Todd (Shea), Brady and Leslie Martin, Anthony and Savanna Cunningham, Will and Olivia Garland, Kalei, Craig Jr., Gabby and Quency Allen; five great grandchildren, Bentlee, Kalee and Marlee Martin, Ryan and Jalani Cunningham; seven step- grandchildren, Denzel, Damein Jr., Domeion and Senay Edmonds, Jeffrey Jr. and Jahbarri Gunn; three step-great grandchildren, Tymyere, Domeion Jr., and Paris Edmonds; sisters, Elizabeth Kelly, Teresa (Jimmer) Allen, and Mary (Wesley) Wagoner; and brothers, Dale Cunningham, Bill Cunningham, Charlie Cunningham, and Jimmy Cunningham.
John is preceded in death by his mother, two sisters, Claudette and Shirley; brother, Bobby; and son-in-law, Michael Martin.
Visitation will be held on Thursday, April 4, 2019 at Genda Funeral Home in Frankfort, from 4:00 to 7:00 p.m. Per John's request, please come casual. Funeral services will begin at 2pm on Friday, April 5, 2019 at the funeral home with Chaplain Ken Rushing officiating. Burial will follow in Whiteman Cemetery near Michigantown. Memorials in John's name may be made to American Heart Association, American Cancer, or National Multiple Sclerosis Society. Online condolences may be directed to www.gendafuneralhome.com.