Keith A. Plake, 84, of rural Frankfort, died June 5, 2023 at home, surrounded by his family.  Born August 8, 1938 in Tipton, Ind. to Lincoln Earl & Bernice J. (Shepard) Plake.  He married Barbara Ann Keesling on May 3, 1957 at the Kokomo Wesleyan Church and she survives.
Keith was a 1956 graduate o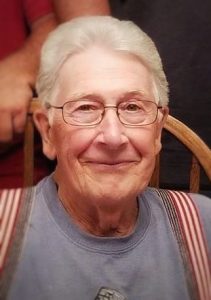 f Tipton High School.  He proudly served his country in the U.S. Army from 1956-1959, attaining the rank of Corporal. He retired from Chrysler on May 30, 1992 after 31 years, working as a tool & die maker.  Keith was also a farmer and raised livestock.  He was a member of the Michigantown Christian Church and the UAW at Chrysler.  Keith was a kind, generous, and joking person, was an avid gardener, where a weed could not be found, he grew the perfect tomatoes and enjoyed woodworking.  He loved his family and his greatest joy was being called Pa by his grandchildren.  A special thanks to Guardian Angel Hospice for the care given to the family.
Keith is survived by his wife:  Barbara Plake of rural Frankfort, daughter:  Pam Ostler of rural Frankfort, brothers:  Earl (Ruth) Plake of Wakarusa, Ind., John (Michele) Freed of Punta Gorda, Fla., sisters:  Carol (Robert) Stucker of Clayton, Ind., Kathy (David) Roe of Kokomo, Ind., grandsons:  Matthew Plake Ostler and Seth Andrew (Allison) Ostler both of rural Frankfort, great-grandchildren:  Graham Michael Ostler and Kyndal Grace Ostler, Keith is also survived by several nieces, nephews and had several friends and neighbors who were like family.  In addition to his parents, he was preceded in death by a son, Michael Keith Plake in 2005, baby brother: Charles Plake,  and his mother-in-law, Annabelle Pedro
Funeral Service:
 Visitation will be from 5-8 p.m. Thursday, June 8, 2023 at Goodwin Funeral Home, 200 S. Main St., Frankfort.  Funeral service will be 11 a.m. Friday, June 9th at the funeral home.  Bob Woods, Minister and Karl Kercheval will officiate.  Burial will be in Bunnell Cemetery.  In lieu of flowers the family asks that a donation be made to one of the following:  Michigantown Youth League, c/o Jan Archibald, 1 E. Clinton St., Frankfort, IN  46041, Michigantown Volunteer Fire Department, P.O. Box 25, Michigantown, IN  46057 or Michigantown Christian Church, P.O. Box 270, Michigantown, IN  46057.  Please visit goodwinfuneralhome.com, where you may leave a condolence for the family.