Leonard L. Lucas, a man known for his kind heart, his love of foreign cars, and his gift of conversation, passed away in his sleep, March 14th, 2023.
Leonard was born, April 10th, 1934 to Wilbur and Anna (Harrington) Lucas in Elizabethtown Kentucky. The family moved to Indiana and Leonard graduated from Delphi Highschool in 1952, not before earning a Sweet Sixteen Highschool basketball ring and playing varsity basketball starting his freshmen year.
A veteran of the United States Air Force Leonard was with the 1092nd Airborne, Senior Air Police Squadron. During his time with the Air Force Leonard received the National Defense Service Medal and Good Conduct Medal.
After his service to our country Leonard and his first wife Linda (Isfalt) settled in Colfax Indiana. Leonard graduated from the trade school of Advance Trades in Chicago Illinois specializing in Refrigeration Mechanic and then from the trade school of Lain College specializing in Tool & Gauge Design. Leonard's strict military training, his additional trade school knowledge, his love of people, and his "car whisper" abilities prepared him to be a successful businessman running gas stations, car lots and specializing in foreign auto mechanics.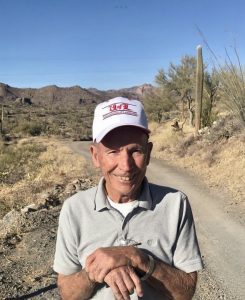 After Linda's death in 1996, Leonard met "sweet" Mary (Blagg) and they were wed in February of 2004. Leonard finally "retired" from his labor of car love and he and Mary became snowbirds in Arizona, then eventually settling full time in Queen Valley. In Queen Valley Leonard attended the Church At Queen Valley, served as a Board Director for the Queen Valley Wastewater Treatment Department, and was the Transactional Manager for Queen Valley Properties.
Leonard loved cars, fast cars, fancy cars, and collected many of them. Leonard was a voracious reader, especially Louis L' Amour. A die-hard UK fan, go Wildcats, he would watch any college team basketball team year-round. Leonard would hike or walk every day and had a love of the outdoors.
Leonard is proceeded in death by his parents, his first wife Linda and his son Mark Lucas and his special buddy Toby his dog.
He is survived by his brother Wilbur G. Lucas, wife Mary (Blagg), his daughters Lorri (Kevin) Sweeney and Gina (Travis) Sheets, Mary's children Joe Allen (Carrie) Blagg, Cindy (Jim) Lower and Annette (Greg) Klinzing, as well as ten grandchildren and ten great-grandchildren.

There will be two Celebration of Life Services:
In Arizona – Sunday, March 26th at the Church At Queen Valley, 241 N Queen Anne Drive, Queen Valley, at 1:00 pm. Memorials may be made to the Queen Valley Fire Auxiliary.
In Indiana – Saturday, April 8th in the Fellowship Hall of the First Evangelical Presbyterian Church, 352 W Clinton Street, Frankfort with the family greeting guests at 1:00pm and a short service at 1:30pm. Memorials may be made to the TPA Park Petting Zoo, 1 Adrian Marks Drive, Frankfort Indiana 46041.
A Veteran's Memorial Service will take place at Crownhill Cemetery in Indianapolis, Indiana, in the future.