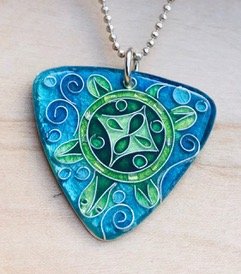 The Friends of the Frankfort Library are proud to announce their 40th Annual Fine Art Exhibition & Sale, The Gem City, happening this Nov. 12–14, 2021 at the Frankfort Community Public Library. The exhibit showcases local and regional artists in a variety of mediums including painting, printmaking, ceramics, photography, jewelry, woodworking, textiles, mixed media, and glass. A portion of sales at this event go to the Friends of the Frankfort Library, who sponsor library arts and children's programming throughout the year. Programs such as the Clinton County Youth Theatre, the Annual Concert Series, and more are made possible by the Friends of the Frankfort Library and the Art Show.  
There will be something for everyone at this year's cultural event! This event is free and open to the public Saturday, November 13, 9 a.m.– 5 p.m. and Sunday, November 14, 1–5 p.m. Art Show Patrons are invited to a preview party and sale Friday night, November 12, from 5:30–8:30 p.m. Want to become an Art Show Patron? All you have to do is pledge to spend $60 or more over the course of the weekend. You can sign up before the Art Show by contacting Mindy Emswiller, memswiller@myfcpl.org or (765) 654-8746, or you can pledge at the door on Friday night. We will have hors d'oeuvres, live music, and beautiful artwork. Artist demonstrations will take place throughout the weekend. Please visit our website, www.myfcpl.org/2021-friends-art-show/ for a detailed schedule and list of participating artists.
We are thrilled to feature accomplished jewelry maker, Deborah Waymire at this year's show.  From ohartgallery.com/deb: "Deborah Waymire creates hand-crafted, one of a kind jewelry. Deborah forms each of her glass beads in the fire by adding layers and layers of hot glass to create intricate patterns and designs. Her pieces are unique works of art—never mass produced, so you won't see another piece created exactly the same. Deborah has added silver-smithing to her jewelry designs, incorporating her glass beads and gemstones to make beautiful sterling and fine silver pieces. Deborah has studied with national and international glass masters and has been a member of the Indiana Bead Society, the International Society of Glass Beadmakers, and the Indiana Society of Lampworkers and Art Glass Artists." Deborah is an award-winning artist and we are honored to showcase her work at this year's Art Show. Deborah will give a Cloisonné jewelry demonstration on Sat., Nov. 9 at 11:30 a.m. in the Gallery. There is no cost to attend. All are welcome!
This event is made possible by the Indiana Arts Commission, the Tippecanoe Arts Federation, and the National Endowment for the Arts, a federal agency.