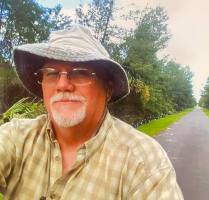 Mark Mullane Lucas passed unexpectedly on Thursday, September 30, at 9:45 a.m. in Daytona Beach Florida.  Mark was born to Linda and Leonard L. Lucas in San Antonio, Texas, just before noon, November 18, 1956.  After the family moved to Indiana, Mark became big brother to Lorri Lucas Sweeney (Kevin) and Gina Lucas Sheets (Travis).
While growing up in Colfax, Mark loved fishing, camping, hot rods, and animals especially snakes.  His skill set and expertise in herpetology continued to grow and at a very young age he was soon sought after for all things reptiles advise.  When the family moved to Frankfort, Mark's reptile collection grew to exotics including poisonous reptiles, prompting annual tours of the home from the Frankfort Fire Department.  Mark spent most years as a Clinton Prairie Gopher but graduated a Frankfort Hot Dog and a Purdue University Boilermaker.  His sought after knowledge in exotic animals took him to Florida to work in the animal import/export business.  His son Damion was born and Mark reveled in sharing with Damion an appreciation for the outdoors, mechanical minded thinking, and zest for living
Damion and his lovely wife Maricel (Monto) provided Mark with great joy as he shared his love of the outdoors with his three grandchildren Sawyer, Elliana, and Shepard.  While on staff at First Baptist Church of Aurantia in Mims Florida Mark was a retired animal keeper, outdoorsman, hiker, wildlife and nature enthusiast, incredible photographer and videographer.  Mark touched many lives and in his memory the family encourages donations to support the mission, the Church, or the entity of your choice that would best represent Mark's kindness in your life.  A Celebration of Life Service will be held on Wednesday 2 p.m. at the First Baptist Church of Aurantia, Mims Florida, with Pastor Dalton Cottrell officiating.