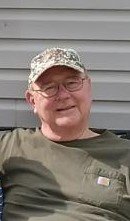 Marvin K. Lucas, 73, of Frankfort, passed away on Saturday, December 26, 2020 at his residence in rural Frankfort.  He was born in Shelbyville, Indiana on November 12, 1947 to Loyd and Betty Lou Havens Lucas.  He married Judy Taylor Gillaspy on July 12, 1996; she survives.
Marvin graduated from Triton Central High School in 1966 then served his country in the United States Navy during the Vietnam War. He had worked for AMS Mechanical for 44 years before retiring. In Marvin's spare time, he enjoyed fishing.
Surviving with his wife, Judy, is a daughter, Heather Lynn Lucas of Orange Park, FL; step-sons, Michael (Kelly Ann) Gillaspy of Jacksonville, FL and Martin (Kristy) Gillaspy of Indianapolis; step-daughter, Jarissa Gillaspy (Carlton Oswalt) of Colfax; sister, Marilyn (Ron) Cron of Germantown, WI; father and mother-in-law, Charles (Mattie) Taylor of Frankfort; six grandchildren and five step grandchildren.
He is preceded in death by his father, Loyd Lucas; mother, Betty Lou (Mac) McClain; and a daughter, Sara Lucas.
There are no services planned at this time.  Genda Funeral Home in Frankfort is entrusted with the arrangements.
Online condolences may be directed to www.gendafuneralhome.com.