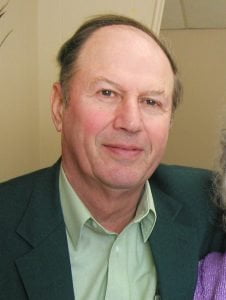 Maurice Robeson was born March 11, 1941 to and Charline (Yeager) Robeson, and LeRoy Robeson   He was welcomed into the arms of his heavenly Father on November 12, 2017.  He is survived by his wife, Janalie (Smith) Robeson, their two daughters, Miriam (David Pickens) and Michele (David Howard), and three grandchildren, Samantha Pickens, Benjamin Pickens and Caitlin Pickens.  He is also survived by two brothers and their families, Lloyd Robeson (Sandy) and Carl Robeson (Dottye), and a sister-in-law, Arlene Pifer (Larry), and her family.
He has lived on a farm all his life. He grew up farming and raising hogs and dairy cattle with his dad.  He graduated from Flora High School in 1959.  In early 1960, he attended the Purdue University Agriculture 8-week short course where he graduated with top honors.
Maurice and Janalie Smith were married March 17, 1963, and moved from their first home in Washington Township to a home they designed and built south of Camden in 1965.   During this time, he share-cropped and raised feeder pigs on his grandfather, Jesse Yeager, and uncle, Charles Yeager's, farms.
In 1972, he built his first confinement hog-finishing unit.  In 1976, he traveled to Europe where he toured some of the most modern farrowing facilities in the world.  He brought his ideas back home and proceeded to build one of the most advanced farrowing facilities in the U.S.  He invented a new brand of woven wire flooring for farrowing and nursery operations.  This wire flooring is still being manufactured and used, with very little change from his original design.
The summer of 1996 he sold his farrow-to-finish hog operation, but it took until March of 2003 to get completely out of hogs.
Maurice engineered and built many hog buildings and designed and built two large grain complexes.  He and Janalie also designed and built their present home northeast of Flora in 1978-79, and they, along with their daughters, were involved in the actual construction of their home.   In the early 1970's, he also engineered and built an early version of the 24-row corn planter.
At the time of his death with manager, Shawn Meek, grandson, Ben, and his valued employees, Maurice was actively farming, including land that has been in his family more than 100 years.  He loved farming and enjoyed working with other farmers.  He was generous with his time in helping others, and his wisdom was sought by many in the community.
He was a member of the Flora First Christian Church, served many terms as an elder and on the Church Board.  He served as Chair of the Elders and Chair of the Board of Directors many times.  He served as chair of several committees over the years, including a number of years as Chairman of the Education Committee.
Maurice is a founding member of the Carroll County Agriculture Association and served as the Treasurer for six years.  In 2004, Maurice was inducted into the Carroll County Pork Producers Hall of Fame.  In 2009, he was recognized as an Indiana Prairie Farmer Master Farmer.
Maurice was well-loved by his family, his church family and many friends.  He will be missed!
Visitation will be held on Thursday, November 16, 2017, at Flora First Christian Church from 4:00 – 8:00 p.m. and also one hour prior to the funeral service at the church on Friday. Funeral service will begin at 10:00 a.m. on Friday, November 17, 2017, at the church with Pastor Kim Holley officiating.  Burial will follow in Maple Lawn Cemetery.  Memorials in Maurice's name may be made to Flora First Christian Church or Carroll County Agriculture Association.  Arrangements are entrusted to Genda Funeral Home Reinke Chapel in Flora, with online condolences directed to www.gendafuneralhome.com.