This weekend on Saturday, June 2 from 9am to 2 pm, NTK Precision Axle Corporation in Frankfort will be holding a Job Fair outside and in the lobby of the Main Operation Facility at 741 South County Road 200 West in Frankfort.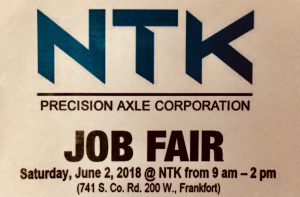 NTK needs to add 40+ positions.  No experience is needed for most positions. Job Fair openings offer $13.50 to $23.75 per hour plus benefits including:
1 week vacation @ 6 months

Additional weeks vacation at 1 year

Low cost tiered Blue Cross Blue Shield Medical and Dental
Eye Med Vision Insureance
Medical insurance eligibility after 30 days
Short and long term disability
Company provided and Optional Life Insureance
Monthly, Quarterly and Yearly Attendance Bonuses
401 K Matching
Company owned uniforms and free laundering
All applicants may apply online prior to June 2 Job Fair at www.ntkaxle.com OR may complete paper application at job fair.
WILO and Shine 99's Cindy Loveless and Scott Alan will be hosting a LIVE Remote Broadcast at the Job Fair on Saturday June 2.