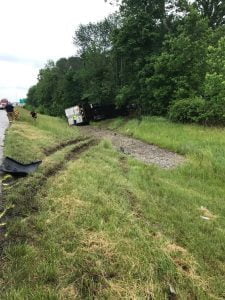 Just before 5 p.m. Wednesday evening, emergency crews were called to the scene of a serious crash on I-74 eastbound at the 119 mile marker. Upon arrival first responders found a semi-tractor trailer on its side in a tree line along the south side of the road. Another vehicle on scene had rear end damage. The driver of the semi was pronounced deceased at the scene. The driver of the passenger car was not injured.
The driver of the semi-tractor trailer is identified as 23-year-old Ahmed Abdulluhi Hussein of Minneapolis, Minnesota. The driver of the 2013 Chevrolet was 41-year-old Stacy Reeves of Indianpolis.
Investigators believe the passenger car was in the left lane and possibly got a flat tire just before the collision. As the passenger car moved to the right it moved into the path of an eastbound semi in the right lane. In an effort to avoid collision the driver of the semi made an evasive move to the right, struck the right rear of the car, ran off the road then overturned into the trees. According to officers on the scene the driver of the semi died on impact. Alcohol or drugs is not believed to be a factor in this crash.
Indiana State Police Crash Reconstructionists were called to the scene to investigate. The crash is still under investigation and no further information will be released at this time.