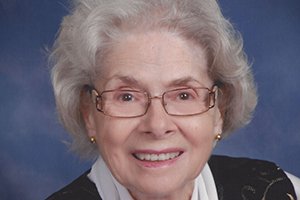 Paula Marshall, 92, Frankfort, passed away at 12:40 am Sunday, March 22, 2020, at her home.  She was born March 5, 1928, in Scircleville, IN, the daughter of the late Paul & Edith (Cripe) Barker.  On June 23, 1946, she married John W. Marshall who preceded her in death on February 14, 2007.
Paula graduated from Scircleville High School in 1945 and attended Indiana University.  She was employed at the Continental Steel office in Kokomo before settling in on the family farm with John.  In 1968, she went to work at Beard Industries where she was Office Manager and Accountant, retiring in 1991.
Paula was a 50+ member of the Order of the Eastern Star (OES), serving in the 1960's as District Deputy and Grand Esther with the Indiana Grand Chapter OES.  She was active in the Johnson and Kirklin Township Homemakers and many area card clubs.  Paula was a charter member of the Bridge Club formed in the Scircleville Area in the early 1950's.
Paula was a member of the Michigan Christian Church and former member of West Point Christian Church and Scircleville Methodist Church.  She enjoyed working with children's vocal and drama productions and Bible school. She enjoyed her family and travelling with John to all the 50 states; most of the 48 contiguous states and Alaska visited while pulling their RV.
Paula is survived by her children, Pam (Randy) Snyder, and Tom (Susan) Marshall; grandchildren, Tami Hutchison (fiancé, Matthew Donoho), Shauna (Jeff) Ross, Beau Dunn (companion, Jessica), Dylan (Valerie) Pohl, and Evan (Hannah) Pohl; great-grandchildren, Kourtney (fiance, Michael), Kaitlin (fiancé, Brandon), Kaija (fiancé, Dakota), Valorie and David Hutchison, Kyle, Braden and Ziva Ross, and Madison Dunn; great-great-grandchildren, Jocelyn, Dominik, Joshua, Cora, Remington, and Anthony.
Paula was preceded in death by her parents; husband; and sister, Beverly Beck.
A memorial service will be held at 3:00 pm Sunday, July 12, 2020, at the Michigantown Christian Church, 108 W. 2nd Street, Michigantown, IN 46057.  Friends are invited to visit after the memorial service at the church. In lieu of flowers, memorial contributions may be made in Paula's memory to the Michigantown Christian Church and the Clinton County Humane Society.
Stout & Son Funeral Home has assisted the family with arrangements.  Messages of condolence may be left online at www.stoutandson.com.