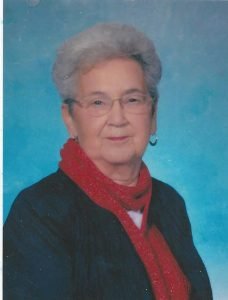 Phyllis J. Miller, 86, of Rossville, passed away unexpectedly at her home on Saturday, January 13, 2018.
She was born March 23, 1931, near Owasco in Carroll County to Martin and Matilda "Tillie" Amstutz Irmeger.  On June 25, 1950, she married Howard Miller; he preceded her in death on January 16, 2006.
Phyllis graduated from Rossville High School in 1949.  She worked at Darel's Café while the children were in school and then went to work at State Farm in West Lafayette as a receptionist for over 20 years before retiring.  In her retirement, Phyllis was a ticket clerk for the Indianapolis Car Auction.
Phyllis was a member of Rossville Presbyterian Church and the American Legion Ladies Auxiliary.  She was an avid sports fan especially basketball; she cheered on Purdue, the Pacers, Fever, Cubs, and Rossville Athletics.  Phyllis also loved to play cards and participated in several card clubs playing Euchre and Bridge.  In her spare time, she enjoyed shopping and dining out.  Many family memories were made at the cottage on Lake Freeman.  In the past, she spent several years wintering in Arizona and Florida.  As a three time breast cancer survivor, Phyllis never lost her spunky, independent personality; she lived life to the fullest and shared her great attitude and high energy with everyone around.
Surviving Phyllis are her children, Jeffrey (Carrie) Miller, of Reelsville, Marcia (Tim) Eller, of Rossville, and Bruce (Cathy) Miller, of Pittsboro; six grandchildren, Amanda Eller, Katie (Jim) Niehoff, Suzanne (Derek) Gee, Thomas (Corene) Miller, Melissa (Luke) Berrier, and Lindsey (Dustin) McGillem; and four great-grandchildren, Avery Niehoff, Lauren Niehoff, Amelia Berrier, and Liam Miller.
In addition to her husband, Phyllis is preceded in death by her parents, brother, Donald D. Irmeger; sister, Eileen Layton; and grandson, J.D. Miller.
Visitation will be held on Wednesday, January 17, 2018, at Genda Funeral Home Rossville Chapel from 4:00 – 8:00 p.m.  Funeral service will begin at 10:30 a.m. on Thursday, January 18, 2018, at the funeral home with Pastors Mike Lyle and Rick Ryan officiating.  Burial will follow in Rossville Cemetery.  Memorials in Phyllis' name may be made to J.D. Miller Leadership in Education Scholarship.  Online condolences may be directed to www.gendafuneralhome.com.