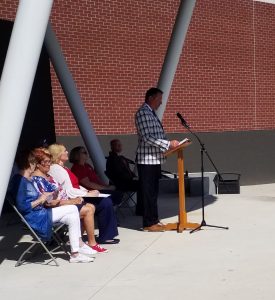 Following last year's Memorial Day Services, city officials announced they were taking over the event. Judging from Monday's ceremony, it appears as though things went well.
"I think it turned very well," said Frankfort Mayor Judy Sheets. "This is the first time the city has done this on their own. We said last year we'd be willing to take it over. The VFW was ready for us to do something different. We had a good crowd."
Though no official crowd was announced, at least 100 individuals filled the venue at Prairie Creek Park to pay honor to America and to those who paid the ultimate sacrifice with their lives.
Sheets also wanted everyone to remember what this day means.
"It's important for all of us who paid the ultimate sacrifice for all us so we can enjoy the freedoms we have today," said Sheets. "I think that's the most important thing is that we remember the many friends and families that lost their loved one. We must always remember the sacrifice that they made for us."
Sheets also led everyone at the bridge for the ceremony honoring Sailors and Marines buried at sea.
A newcomer to this year's event was Indiana State Representative Mark Genda, who gave the Memorial Address.
"It was certainly a honor to be here today and be a part of the program," said Genda. "Congratulations to all the people that put this together. It was the perfect ceremony to honor Memorial Day."
There was also a presentation of Flanders Field, the Decorating of the Mound, the American Legion and VFW Honor Guard along with Taps and Echo.
The VFW also served a lunch for those who attended.
Photos and video by Erick Dircks, Click on links below for photos.