Rex Allen Robb, 59, of Frankfort, died at 11:50 p.m. January 19, 2021 at St. Vincent Hospital, Indianapolis, Ind., after a battle with pancreatic cancer.  He was born October 15, 1961 in Rushville, Ind., to Robert LeRoy & Sonia Ella (Tanner) Robb.  He married Norene Louise Grammer on October 4, 1987 and she survives.
Rex was a graduate of the Indian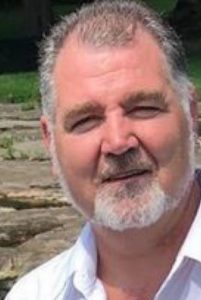 a School for the Deaf and attended Ivy Tech.  He was a lifelong Frankfort resident.  A carpenter, he worked for FBI Buildings, Jarman Construction and K-Mart.  He enjoyed doing carpentry work for his friends.   He was a member of two deaf clubs, NCDC in Kokomo and MCDC in Anderson.  Rex enjoyed car shows, camping, watching Days of our Lives, Live P.D., NASCAR and was a fan of Dale Earnhardt and Dale Earnhardt Jr.  His greatest joy was attending his grandchildren's sporting events, which he never missed. Rex's family would like to give special thanks to the Wampler Family.
He is survived by his Wife:  Norene Robb of Frankfort, 3 Daughters:  Dawn (Danny) Barker of Frankfort, Jenny Kanable of Frankfort and Dana Robb of Frankfort, Mother:  Sonia Robb of Frankfort, Sister:  Hunny (Joel) Pool of Frankfort, Brother:  Bobby (Angie) Robb Jr. of Frankfort, 9 Grandchildren, Chase Kanable, Deacon Watson, Gage Pitzer, Jaiden Pitzer, Logan Barker, Izabella Robb, Xavier Robb-Cross, Dalton Winkles, and Mekhi Winkles.  He also has one Niece, Morgan Conner and one Nephew, Weston Pool. He was preceded in death by his father Robert Leroy Robb Sr. and a sister, Candy Lavern Robb.
Funeral Service:
 Visitation will be 5-8 p.m. Tuesday, January 26, 2021 at Goodwin Funeral Home, 200 S. Main St., Frankfort. Out of respect for the health, safety, and comfort of all in attendance, guests will be expected to adhere to current CDC guidelines regarding appropriate social distancing and the wearing of masks.   Please visit goodwinfuneralhome.com, where you may share a personal message with the family or send a Hug from Home.