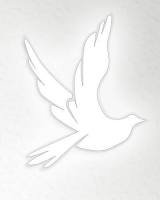 Richard Glen Sparks, 90, of Palmetto, Florida passed away on Sept 15, 2021, at his home. He was born on July 9, 1931, to Glen and Montes (Nice) Sparks and was raised in Carroll County Indiana.  Dick was a member of the Cutler Presbyterian Church and a 1949 graduate of Cutler High School and a lifetime member of the American Legion.
Dick proudly served in the U.S. Air Force as a member of the 71st Air Rescue Squad from 1950 to 1958.  He married Sharon Sue Deboy in 1953 at Geetingsville Presbyterian Church and made his living raising hogs and farming.  Sharon preceded him in death in June 2000.  He married Eleanor G. Miller of Weedsport, NY on Sept 15, 2001, and moved to Florida.  Ellie recently preceded him in April 2021.
He enjoyed spending time with his family, playing cards, western movies, traveling, watching sports, dancing, riding his scooter, reading and visiting with friends.  Earlier in life, Dick enjoyed raising his children, riding motorcycles, snowmobiling, learning about history and camping.
Surviving are his children:  Steven Wayne of Palmetto, FL, Cynthia Sue of New Haven, IN, and Randall Glen of Cutler, IN; granddaughter, Pammi J (Timothy) Smith and great-grandchildren Aubrey and Hunter of Bowling Green, FL.  Richard was preceded in death by his parents and sister, Annadelle (Tom) Ebbinghouse.
A memorial service will be held Saturday, October 16, 2021 at 10:30 A.M. at the Cutler Presbyterian Church, 48 E. County Road 500 S., Cutler, Indiana, 46920. Burial will be in Ball Hill Cemetery, Cutler, Indiana. A memorial service was held in Florida at the First Baptist Church of Gillette in Palmetto, Florida at 11:00 A.M. on Wednesday, Sept 22, 2021. Brown & Sons Funeral Homes & Crematory 43rd Street Chapel, 604 43rd Street West, Bradenton, FL, 34209, handled the arrangements in Florida. Genda Funeral Home of Rossville is assisting the family with the services in Indiana. Online condolences may be directed to www.gendafuneralhome.com.