Robert L. Oswalt, 62 of Colfax, died October 20, 2019 at I.U. Arnett Hospital, Lafayette.  He was born September 1, 1957 in Lafayette, Ind. to the late Ward & Mildred (Zink) Oswalt.  He married Vicki Rusk on August 21, 1982 in Romney, Ind. and she survives. Rob was a 1975 graduate of Southwestern High School in Tippecanoe County and had lived in Clinton County most of his life.  He was a butcher at R & R Meat Processing in Colfax prior to working at SIA for over 20 years, retiring in 2014.   Rob was a member of the Dayton Masonic Lodge, where he served as Grand Master.  He enjoyed woodworking and Civil War reenacting.
He is survive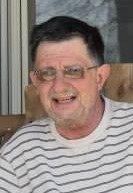 d by his wife:  Vicki Oswalt of Colfax, Daughter:  Renae (Jeremiah) Lewis of Battle Ground, 3 Sons:  Ronnie Oswalt of Colorado, Adam Oswalt of Colfax, Carlton (Jarissa) Oswalt of Colfax, 4 Brothers:  Joe (Sue) Oswalt of Alabama, Larry Oswalt of Michigantown, Dave (Jackie) Oswalt of Virginia, Jeff (April) Oswalt of Texas, 2 Sisters:  Mary (Vinny) Poppiti of Arizona and Vickie (Rick) Hoskins of Lebanon, /father & Mother in Law:  Dean (Joanne) Rusk of Colfax, 4 Grandchildren: Colton, Liliana, Emry and Cameron.  He is also survived by many nieces, nephews and other loving family members.
Funeral Celebration:
 Visitation will be 12 Noon-2 p.m. Friday, October 25, 2019 at Goodwin Funeral Home, 200 S. Main St., Frankfort.  A Masonic service will begin at 1:50 p.m. prior to the Funeral celebration at 2 p.m. at the funeral home.  Burial will be in Plainview Cemetery.  Memorial donations may be made to the American Heart Association.  Please visit goodwinfuneralhome.com, where you may share a personal message with the family.