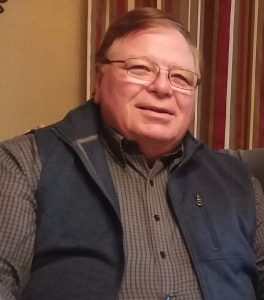 Robert Lee (Bob) Puckett, 75, of rural Frankfort went to be with his Lord and Savior Jesus Christ on January 10, 2022. Bob was born July 25, 1946 in Kokomo to Boyce and Dorothy (Campbell) Puckett, who precede him in death. He grew up in Hillisburg and graduated from Clinton Central High School. He attended Ball State University where he earned his bachelor's degree in Business Administration. He was in the U.S. Army Reserves for six years. Bob married the love of his life Christine (Gray) Puckett on June 2, 1968. She preceded him in death on January 22, 2021. They shared 52 years of marriage, and have two daughters, Carol Dishon (Gunnar) of rural Frankfort and Caren Crum of Rossville. He was a true family man and loved his family dearly.
Bob was a 36 year member of Oakland Christian Church. He had a passion for sharing the Gospel and was involved with many Christian ministries, including the World Missionary Press in New Paris, IN where he volunteered monthly to help assemble and pack scripture booklets that are distributed worldwide. He always carried some of those little booklets in his pocket and passed them out daily to those he met. He was also a jail minister for more than 40 years in both the Carroll County and Clinton County jails.
He is survived by his daughters Carol and Caren, his grandchildren Aidan Dishon, Soren Dishon, Caden Crum and Caitlin Crum, his brother Sonny Puckett (Renita) of Kokomo, brother-in-law Gary Gray (Vickie) of rural Frankfort, nieces Nicole Gray Weaver (Matt), Kelley Gray, Christy Gray Mendoza (Sal), Christy Shallenberger, Susan Shallenberger, nephews Matthew Shallenberger (Shannon), Scott Shallenberger (Tabby), Steve Shallenberger (Tish), as well as many great-nieces and great-nephews.
Visitation will be Saturday, January 15, 2022, beginning at 11:00 a.m. until the start of the funeral service at 1:00 p.m. at Genda Funeral Home ~ Rossville Chapel.  Burial will follow at Green Lawn Cemetery in Frankfort.  Memorial contributions can be made to the Oakland Christian Church Building Fund. Online condolences may be directed to www.gendafuneralhome.com.