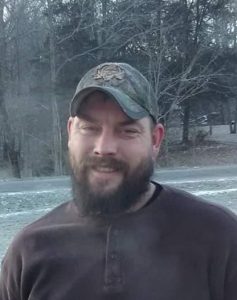 Robert Lee "Maynard" Wells, 33, of rural Delphi, passed away unexpectedly at his mother's home on Sunday, November 3, 2019.  He was born May 24, 1986, in St. Joseph, Michigan, to Wayne and Betty (Burns) Wells; his parents survive in Mulberry.  Maynard was married to Sam Breneman; she survives.  Maynard was self-employed and worked for Wayne's Tree Service.  He enjoyed working on cars, drinking coffee every morning with his dad, loved his family, and playing at the park with his kids.
In addition to his wife and parents, Maynard is survived by his father and mother-in-law, Jeff and Cindy Breneman; daughters, Cheyenne, Maycee, Kaycee, and Lou Wells; brothers, Dustin Wells (Sebrina Edwards) and Jason (Candice) Wells; uncles, James Wells, Dale Clayton, Mark (Sally) Clayton, Raymond (Sharon) Burns, Elbert Burns, Robert (Loretta) Burns, and George King; aunts, Alice (Mike) Cook and Nellie Cheek; nephew, Noah Wells; and several cousins including Thomas King.  Maynard is preceded in death by his grandparents and aunt, Mary Clayton.
Visitation will be held at Genda Funeral Home Mulberry Chapel on Friday, November 8, 2019, from 12 noon to the start of the funeral service at 2:00 p.m.  Pastor Phil Whisler will officiate.  Burial will follow in Fair Haven Cemetery.  Memorials in Maynard's name may be made to help the family defray funeral expenses.  Online condolences may be directed to www.gendafuneralhome.com.