Ronald Joe Wolfe, 63, of rural Frankfort, died January 8, 2022 at Witham Hospital, Lebanon, Ind.  He was born September 5, 1958 in Frankfort to Joe & Maude (Cottrell) Wolfe.  His marriage of 32 years was to Pamela Baker on November 4, 1989.
Ronald was a 1978 graduate of Fra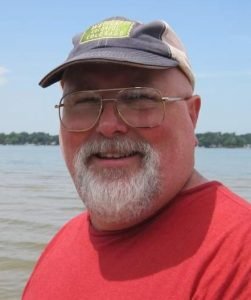 nkfort High School and a lifelong Frankfort resident.  He worked at NHK for 31 years.  He was affiliated with the Frankfort Bible Holiness Church.  Ronald enjoyed antique cars, was a computer whiz, loved listening to music, watching movies, and was known as a movie buff.  He loved Christmas movies, especially the 2nd release of The Christmas Story.
He is survived by his Wife:  Pamela Wolfe of rural Frankfort, Son:  Wendell Davis of rural Frankfort, 2 Brothers:  Ray Wolfe and Ralph (Teresa) Wolfe, 4 Sisters:  Brenda Wolfe, Connie (Mark) Anderson, Lisa (Mike) Strong and Tammy (Mark) Snodgrass, 8 Nieces and Nephews and 5 Great Nieces and Nephews. He was preceded in death by a son, David McClellan and his parents.
Funeral Service:
 Visitation will be 5-7 p.m. Friday, January 14, 2022 at Goodwin Funeral Home, 200 S. Main St., Frankfort.  Funeral services will be 2 p.m. Saturday, January 15, 2022 at the funeral home.  Dr. David Fry and Pastor Mark Mowery will officiate.  Burial will be in Green Lawn Cemetery.  Please visit goodwinfuneralhome.com, where you may share a message with the family.