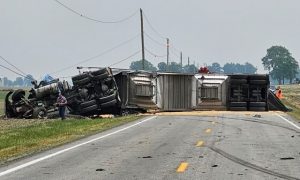 At approximately 12:06 p.m. Monday, officers from the Indiana State Police and the Tipton County Sheriff's Office responded to a four-vehicle crash near the intersection of State Road 28 and County Road 1050 W., in which a Rossville, IN, man died.
The preliminary crash investigation by Master Trooper Ron Fisher revealed that Travis Kramer, 40, Frankfort, was driving a 2022 Ford pickup truck pulling anhydrous tanks westbound on SR 28 near CR 1050 W. Shaun McCord, 42, Tipton, was driving a 2022 Dodge pickup truck pulling anhydrous tanks also traveling westbound on SR 28 behind the Ford.
Further investigation revealed a 2017 Volkswagen driven by a 17-year-old driver was traveling westbound on SR 28 attempting to pass the two pickup trucks pulling anhydrous tanks. At the same time, a 2014 Peterbilt Semi driven by Matthew Marley, 57, Rossville, was traveling eastbound on SR 28. The Volkswagen sideswiped the Ford pickup truck and the Peterbilt. The Peterbilt lost control, crossed the center line, and struck the Dodge head-on. The Peterbilt came to an uncontrolled rest on top of the Dodge off the north side of the roadway.
The 17-year-old was transported to Indiana University (IU) Tipton Hospital for minor injuries. Kramer was not injured. Marley and McCord were airlifted to an Indianapolis hospital via medical helicopter. McCord is in stable condition. Marley was pronounced deceased at the hospital.
This is an ongoing investigation. At this time, there is no further information to release. Alcohol or drugs were not believed to be a factor. Notification to the family of the deceased has been made.