Ruth Ann Kelly (Shelley) was born November 19, 1932 and died on December 3rd 2022 at 90 years of age. Her parents were Joseph (Pid) & Bertha Shelley of Kirklin Indiana. Ruth had one sister Barbara Shelley (Gabbert) (Deceased) and a brother William Joseph (and Phyllis) Shelley who are still living.
Ruth married Robert (Bob) Kelly on November 13, 1971 and they combined their families together. Bob preceded Ruth in death March 4, 2004. They were married 32 years.
Bob and Ruth lived most of thei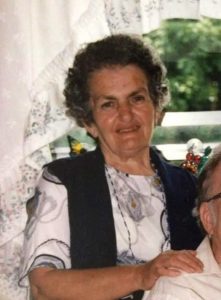 r lives in Kirklin. They were known by many neighbors and the children they babysat for as Grandma and Grandpa Kelly. They loved meeting new people and once you met them, you were family.
They had in total 7 children:
*Michael Church Sr. (Glenda and Teresa) 2 children and 4 grandchildren.
*David Church Sr. (Karen preceding in death) 3 children 8 grandchildren (1 preceding in death) and 2 great grandchildren
*Stephen Church (Preceded in death) (Teresa and Kathy) 4 children and 5 grandchildren
*Jeffery and Chris Church
*Sheila (Kelly)and Jeff Miller (Rick Martin deceased) 4 children, 14 grandchildren, and 7 great grandchildren.
*Bobbi (Kelly)and David Musick (Mike Spear) 4 children and 4 grandchildren
*Penny (Kelly) and Jason Coffman 3 children
We love and miss you Mom and Dad. We know you're with Jesus. I am still looking forward to our foot race Dad. (Penny)
There will be a Celebration of L
ife Event in warmer weather in Kirklin for friends and family to gather and remember how Ruth and Bob's lives touched so many.  To be continued…
Clinton County Crematory and Goodwin Funeral Home, 200 S. Main St., Frankfort are assisting the family with arrangements. Donations may be made to Goodwin Funeral Home, to assist the family with final expenses.  Please visit goodwinfuneralhome.com, to leave a message for the family.