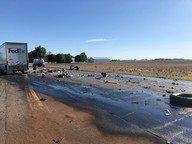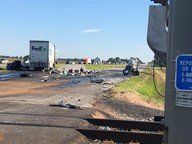 At approximately 5:30 a.m. Friday, officers from the Indiana State Police and the Tipton County Sheriff's Department responded to a two vehicle crash on U.S. 31 at County 100 South, which caused hydrochloric acid to be leaked from a damaged semi-trailer.
The preliminary crash investigation by Trooper Jeremy Perez revealed that Justin Walker, 38, Louisville, KY was driving a 2019 Freightliner semi-tractor, pulling a tanker trailer, northbound on U.S. 31 near County Road 100 South. Stephen Emery, 29, Peru, was driving 2019 Volvo semi-tractor, pulling a box trailer, northbound on U.S. 31, following behind the Freightliner. The Freightliner stopped for a set of railroad tracks, as required by law, because it was hauling a hazardous material, hydrochloric acid. The Volvo did not stop and rear-ended the Freightliner's tanker trailer. This caused a hole to be punctured into the tanker trailer, allowing approximately 4000 pounds of hydrochloric acid to be leaked.
Both drivers suffered minor injuries and were treated at the scene.
Utilizing an abundance of caution, emergency responders requested that residents of approximately six homes evacuate the area. The morning wind helped dissipate a vapor cloud, caused by the leaking acid. No area residents nor first responders suffered any injuries.
Acid, combined with spilled diesel fuel, did damage the surface of U.S. 31. At the time of this release, northbound U.S 31 at Tipton County Road 100 South is closed. Traffic is being diverted onto State Road 28. Southbound U.S. 31 is open, but could have periodic lane restrictions as workers from the Indiana Department of Transportation conduct mill work on the damaged road.
This is an ongoing investigation. At this time neither the consumption of alcoholic beverages nor narcotics is suspected as having contributed to this crash.
Walker was driving for Reagent Chemical Research Incorporated based in Port Author, Texas. Emery was driving for Federal Express out of Kokomo.