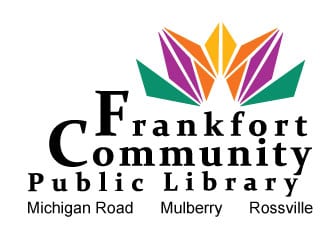 The Frankfort Community Public Library is pleased to present an art exhibit showcasing work of esteemed Indiana Artist David O'Dell in the Hubbard Gallery June 22–July 31. This exhibit is free and open to the public. Artworks will be for sale, with a portion of sales going towards arts and education programming at the library.
Longtime serigraphy (also known as silk screening) artist David O'Dell shifts his silk screen printing skills into a whole new gear by zeroing in on Indy 500 racing cars and creating a unique series of limited-edition prints. O'Dell created the Indy 500 series in honor of his father, David O'Dell Sr., who was a WWII photographer and one of the official photographers of the Indy 500 from 1951 to 1957. He was also the official photographer at the Indiana State Fair and covered the Beatles when they performed there in 1964. When describing his Indy 500 silk screen series, O'Dell says, "I do a photo shoot of the car and crop the image in such a way that only true fans of the race will recognize the car. I interpret the image to determine how best to transcribe it in silkscreen. I call my style 'Crop Pop.'"
While working at Image Graphics and later Serigraphics in Broad Ripple during the 1970s, David designed a poster for The Rolling Stones and later hand-printed silkscreen posters for a variety of   recording artists including Carlos Santana, James Taylor, John Lennon, Cheap Trick, Diana Ross, and many more. David also traveled to Africa photographing wildlife on safari, a Maasai tribe in their northern Tanzanian villiage, the Ngorongoro Crater, and from a hot air balloon, the Serengeti National Park game preserve. O'Dell worked as the senior graphic designer for Kmart Corporation in Michigan for many years and also taught classes at the International Academy of Design and Technology in Troy, MI.
David retired in 2016 and he and his wife moved back to Indiana, where he set up shop in his Fishers studio and now devotes all of his time to creating fine art. He is a member of the Center for Creative Arts (CCA) and was accepted as an Indiana Artisan; both have galleries in Carmel, IN.
In addition to the Indy 500 series, David will be showcasing silkscreens featuring the legendary Beatles and some of O'Dell's lenticular artworks at FCPL. Lenticular artwork is interactive and allows the viewer to see different scenes depending on the angle of which the artwork is viewed. David has won over 30 national and regional awards including 5 national first place Paragon awards. From O'Dell's website, www.DavidODellFineArt.com, "My goal is to create art that makes you stop and look at things from a new and different perspective that is fun and entertaining." We hope you can join us for this exhibit in the Anna & Harlan Hubbard Gallery on the second level of the Frankfort Community Public Library June 22 through July 31, 2021 during regular library hours.