Simon Torres, 79, of Indianapolis, Ind., died August 13, 2023 at I.U. Methodist Hospital, Indianapolis.  He was born May 22, 1944 in Providencia, Guerro, Mexico to Fortino Torres and Maria de Jesus Romero.  He marr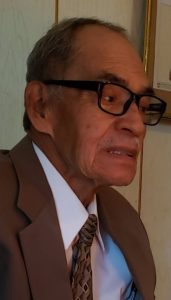 ied Minerva Cervantes Andraca on January 10, 1965 in Acapetlahuaya, Guerro, Mexico and she survives.
Simon was a farmer and warehouse worker.  He was deacon and currently Pastor, since 1999, at his church, Iglesia de Dios Israelita, Indianapolis.  He was very involved in his church and loved his family.
Simon is survived by his wife:  Minerva Cervantes de Torres of Indianapolis, son:  Hilario Torres, daughters:  Maria (Owen) de los Angeles Hill, Marcelina (Fermin) Castro, Maribel Figueroa, Corina (Alfonso) Vazquez, 11 grandchildren and 9 great-grandchildren.  He is preceded in death by a son, Alejandro Torres
Funeral Services:
 Funeral service will begin at 1:30 p.m. Thursday, August 17, 2023 at Goodwin Funeral Home, 200 S. Main St., Frankfort. No visitation is planned. Burial will follow in Cox Family Cemetery, rural Thorntown, Ind.  Please visit goodwinfuneralhome.com, where you may leave a condolence.