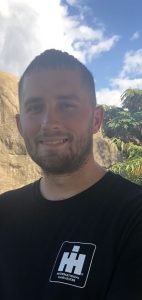 Steven Ray Roberts, 29, of Colfax, passed away unexpectedly on Friday, November 27, 2020 in a vehicular accident.  He was born in Indianapolis on December 4, 1990 to Raymond Scott Roberts and Trixie Arlene Mathis.  He married Danielle Leigh Morris on September 10, 2016; she survives.
Steven played football at Sheridan High School where he obtained his GED.  He worked as a fuel delivery driver for Ceres Solutions Cooperative and had previously worked for General Cable in Lebanon.
A KFC connoisseur, he enjoyed dirt bikes, trucks, and hanging out with friends and family.  Most of all, he loved playing with his boys.
Surviving with his wife, Danielle, are his sons, Julius Alexander Roberts and Marcus Ray Roberts; his parents; his maternal grandmother, Dianne Marie Mathis; his paternal grandparents, Raymond and Sue Roberts; his brothers, Andrew Roberts and Evan Roberts; his sisters, Krystal Renea Mathis, Kerry Marie Mathis, and Sosie Gehling; his father and mother-in-law, Jim and Sheila Morris; his granny-in-law, Barbara Milnes; his brother-in-law, Zach Morris (wife Kayla); nephews, Lane Morris and Reid Stevens; niece, Liza Morris, and other loving family.
Visitation will be held on Monday, November 30, 2020 from 10:00 am to noon at Genda Funeral Home in Frankfort.  Funeral service will be at 1:30 pm at St. Mary's Catholic Church in Frankfort with Fr. David Buckles and Fr. Paul Cochran officiating.  Burial will follow in Green Lawn Cemetery, Frankfort.
In adherence to the current CDC guidelines, it is requested that guests follow the appropriate social distancing and the wearing of masks.
Online condolences may be directed to www.gendafuneralhome.com.