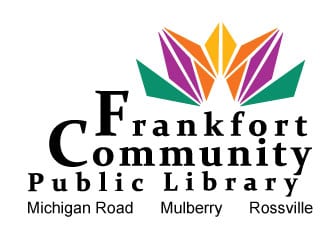 Frankfort Community Public Library and the Branches in Michigantown, Rossville, and Mulberry invite community members of all ages to come "All Together Now" for Summer Reading! The program kicks off on Saturday, June 3, from 1-4 p.m. at the Frankfort Community Public Library and continues until July 15, 2023.
Each year, the Summer Reading Program promotes literacy with several events and prizes available to community members of all ages. The slogan this year is "All Together Now" and our libraries are celebrating with programs focused on kindness, friendship, and unity.  The program begins on Saturday, June 3, from 1:00-4:00 at the Frankfort Community Public Library Summer Reading Kick-Off. During this time, patrons of all ages may visit several areas of the library, complete fun activities, and earn a prize. For each week following the kick-off, patrons may drop by the Children's Desk at FCPL, or Rossville Public Library, Mulberry Public Library, and Michigan Road Public Library for a prize. These prizes are available while supplies last.
In addition to weekly prizes, each location is holding prize drawings throughout the summer. Participate in Summer Reading to win prizes like Monster Mini Golf Tickets, Indianapolis Indians tickets, Red Barn Theatre tickets, and gift cards to local businesses on Frankfort Main Street. Also, we are offering several exciting all-new prizes including hosting your own family movie night in Skanta Theatre or your own family game night in Harry's Coffee Bar. Finally, our grand prizes are a brand-new bike from Hodson's Bay Company in West Lafayette and a Family Camping Gift Package with a tent! Enter to win by checking out materials, turning in book reviews, and attending library programs. For a complete list of prizes visit www.myfcpl.org/all-together-now-summer-reading-at-the-library/.
A specific goal of the Summer Reading Program is to prevent learning loss. Research shows that, "by the summer after seventh grade, students lose on average 35% of their school-year gains in reading…and..50% of their school-year gains in math" (Kuhfield, M., NWEA, 2018). We care about the education and entertainment needs of all our community members and that is why, each year, we work to create quality programming and incentives especially for summertime.
Summer Reading at the library is for everyone! A library card is not required to join the fun and the program is free. Visit the library's website to learn about the many programs offered at each location. Among these events are School Age and Storytime Art, Tween and Teen Pokémon Terrariums, and Storytime in the Garden. Here are a few important dates to remember:
, June 3, 1:00-4:00 p.m.: Summer Reading Kick-Off
, June 3, 10:00 a.m.-12:00 p.m.: Mulberry Chalk It Up-Kick Off for Summer Reading
, June 3, 7:30 p.m.: Friends Annual Concert Series: Cornfields & Crossroads
, June 10, 10:00 a.m.-2:00 p.m.: Michigan Road Spread Kindness Sidewalk Chalk Day
, June 23, 1:30-4:00 p.m.: Rossville Alcohol Ink Tile
,Sat., June 22-29, 7:30 p.m., and Sat., 2:00 p.m.: Clinton County Youth Theatre performs Disney's Moana JR.
Much of our local community joins in the fun of Summer Reading by sponsoring and collaborating with our libraries. For Instance, Moxie Mavens Boutique designed our 2023 Summer Reading T-Shirts. The adorable designs are available for purchase at Moxie Mavens and portion of the proceeds goes back to the library to support Summer Reading programming. Thank you to our many sponsors and partners: Dairy Queen, Frankfort Arni's, Frankfort Main Street, Friends of the Frankfort Public Library, Friends of the Michigan Road Library, Friends of the Mulberry Library, Friends of the Rossville Library, Hawaiian Shave Ice, Heathers Flowers, Hoosierland Roller Rink, Hodson's Bay Company, Indianapolis Indians, Indy Fuel, Kokomo AMC Theatre, Lafayette Aviators, Lafayette Tropicanoe Cove, Madison Township Fire Department, Michigantown Dollar General, Milky Way, Monster Mini Golf, Moxie Mavens, Pepe's Mexican Restaurant, Red Barn Summer Theatre, Rossville Pizza King, Schulz Grocery, Southfork Restaurant and Pub, and Walmart.
For more information, or to support Summer Reading at the library, please contact Rachel Milburn (765)654-8746 ext. 1117 or email at [email protected].