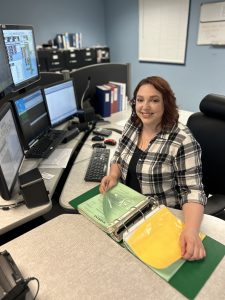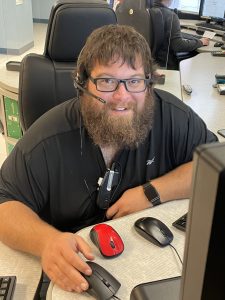 Two Clinton County dispatchers were recognized at the Clinton County Commissioners' meeting on Monday, June 5 for their calm in the face of crisis.
Lora Wellman is a shift supervisor on the Red Night Shift. In the early morning hours of April 3, she took a call from a woman who indicated her house was on fire. The fire was blocking her family's exit from the home and heavy smoke was making it difficult for them to breathe. Wellman instructed the woman to go back upstairs, close the door, and place blankets at the bottom of the door to keep the smoke out. Wellman stayed on the phone with the woman, encouraging her to open a window and wave something out to help responders locate the family. Frankfort Police officers were the first on the scene and helped the family of six – including a baby – to safety.
"I don't get nervous per se, but I do recognize that the stakes are higher with a call like this one," says Wellman. "Your training kicks in and you focus on making sure that you're doing your best to help the callers until responders arrive. It's great to know that you made a difference in the outcome."
Brandon Clark works on the Blue Day Shift. On May 11, he answered a call reporting an unresponsive man slumped over and not breathing. The caller did not know CPR (cardiopulmonary resuscitation), so Clark walked him through it for six minutes until the first EMT (emergency medical technician), a volunteer from the Forest Fire Department, arrived on scene. The Clinton County Sheriff's Office arrived shortly after with an AED (automated external defibrillator).
"Providing CPR instruction can be challenging, but we go through hours of training to make sure we're ready for moments like these," Clark says. "It's high stress for the caller too. For them to be willing and able to perform CPR is a credit to them. My co-workers were also top notch that night, dispatching help to the scene so I could assist the caller. It was really a team effort."
Both Wellman and Clark were awarded Certificates of Commendation by Clinton County Central Dispatch Director Renee Crick at the commissioners' meeting. "These calls are just two of thousands of calls our staff handle every year," Crick says. "Our dispatchers provide critical life-saving instruction each and every day, but seldom know the outcome of the medical calls they take. Their teamwork and commitment to keeping their community safe in unparalleled and often goes unrecognized. We are happy we could celebrate two happy outcomes today."