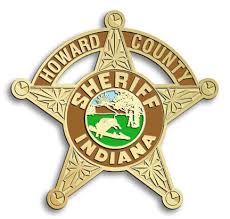 At approximately 10:59 a.m. Sunday, the Howard County 911 dispatch center received phone calls of an airplane down and on fire near the Glenndale Airport (3460 S. 400 W. Kokomo). The airplane was last seen just north of the airstrip and was believed to be located in a cornfield on fire.
Upon arrival, deputies discovered a male subject being tended to for his injuries by bystanders. The subject identified himself as 17-year-old Cameron Wagler of Greentown. Cameron was alert and conscious and was able to provide deputies with important information regarding the flight to aid first responders in the search for additional passengers. Cameron advised deputies that there was a total of four people on board and that he was seated in the rear of the plane.
Using the information provided, first responders were then able to confirm that the additional three occupants of the aircraft were accounted for in the wreckage. The scene was then secured and the Howard County Coroner was requested along with Federal Aviation Administration (FAA) investigators.
Once on scene, Howard County Coroner Dr. Steve Seele pronounced the following occupants of the airplane deceased at 11:30 a.m.
Jerral Alan Long, Age 63 of Kokomo, IN;
Liam Patrick Kelly, Age 17 of Carmel, IN;
Reece David Kelly, Age 15 of Carmel, IN.
Preliminary investigation in conjunction with eyewitness accounts reveal that prior to crashing, the 1980 Piper PA-32 was being piloted by Jerral Long and was approaching the airstrip from the north to perform a routine landing. Upon approach, the aircraft struck a large high-tension wooden power line pole causing the aircraft to nose-dive into the cornfield below where it caught fire
The three teenagers on board, two of whom are brothers, were reported as being members of a club called the "Flying Squirrels" and were flying prior to the annual Glenndale Days BBQ Bash charity event at the Glenndale Airport.
This investigation is on-going and is being handled by the FAA, NTSB, Howard County Sheriff's Office and the Howard County Coroner's Office. Autopsies are scheduled for Tuesday, September 22, at Community Howard Regional Health. At the time of this release, Cameron remains in stable condition.
The Howard County Sheriff's Office extends its deepest condolences to the families of those involved in this tragic accident. We ask that you help us by giving those involved the privacy, respect and peace they deserve while they navigate through the hardest times of their lives.