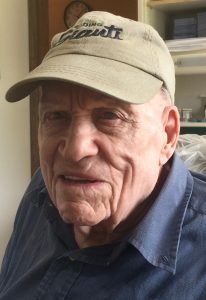 Walter Estes, 96, of Frankfort passed away on Monday, December 27, 2021, at Clinton House.
He was born on November 6, 1925, in Summer Shade, Metcalfe County, Kentucky. He was one of fifteen children born to Earnest and Vadie (Gibbons) Estes. He married Ruth Wilson; they later divorced.
Walter was an inspector and a high-man painter for the Nickel Plate Railroad, from which he later retired. He was known for his painting skills having painted the Coulter Hotel, the Del Monte water tower, and performed high work on the county courthouse tower.
His fondest and final memories were of his family and birthplace. He enjoyed growing up on a farm, storing food in the freshwater spring out back since there was no refrigeration, drinking from the spring across the road using a common tin can, his mother putting up food from their garden for winter (especially pickles), his taking chickens to market, and having fresh biscuits every morning. Walter was very proud of his children.
He loved to tell tales of his childhood walking to Huffman School; his older
brother, Henry, blowing out the tire of his Model T on what was to be Dad's first trip to Glasgow; watching men use horses and logs to move their home back so the new road could go in; and, the day the circus drove by.
He was preceded in death by his sisters, Jula Mae, Myrtle Marie, Lela Pearl, Ora Dell, and brothers, Denton, James Robert Euwin, Henry, Willie, Leonard, Elston, and one great-grandson, Ryan Neal.
He is survived by his sons, Kenneth (Sue) Estes, David (Joyce) Estes, and daughter Chris (Jerry) Lesley. Also surviving are his sisters, Mary Nell, Reba Geenett, and Marilyn, along with brother, Jimmie, six grandchildren, 15 great-grandchildren, three great-great-grandchildren, and several nieces and nephews.
Walter's family would like to thank the staffs of Clinton County Parkview Home, Clinton House, and Southern Care Hospice for their genuine care of their dad.
Visitation will be Thursday, December 30, 2021, from 3:00 pm until 5:00 pm at Genda Funeral Home ~ Frankfort, followed by a funeral service beginning at 5:00 pm with Pastor Phil Lake officiating. The graveside service will be Friday, December 31, 2021, at 2:00 pm (Central Standard Time) at Skaggs Creek Cemetery in Rockbridge, Kentucky. Online condolences may be directed to www.gendafuneralhome.com.