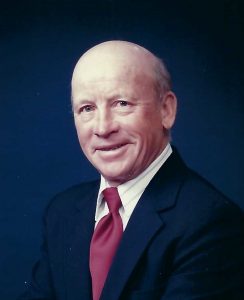 Wayne E. Crum, 96, of rural Frankfort, went to be with the Lord on Tuesday, June 4, 2019 at Wesley Manor Health Center in Frankfort.  He was born December 20, 1922, in Clinton County, the son of Earl and Bessie (Cox) Crum.  On October 8, 1943, Wayne married Wilma A. Robertson, and she preceded him in death on August 3, 2014.  A life-long resident of Clinton County, Wayne attended school at Beard and was a 1941 graduate of Michigantown High School.
He was a well-respected livestock and grain farmer in the Beard community all his life and enjoyed helping his brothers and neighbors farm as well.  Wayne was also an excellent carpenter and enjoyed witching for well water throughout central Indiana as a hobby.
Wayne was a life member of Hopewell United Methodist Church where he served tirelessly in many capacities through the years. Wayne was a past Master of the Beard Masonic Lodge and was recently awarded a plaque for seventy-five years of membership. He was also a member of the Eastern Star for fifty-three years.
 For forty years, Wayne was a director of the Geetingsville Telephone Company and served as president of the board for thirty years. He served on the Clinton Central School Board from 1968-1972. Wayne was an avid supporter of the 4-H Club and was the first 4-H boys' leader in Warren Township, a position which he held for twenty years. He was devoted to his family and friends and loved family reunions. He was known as a hard worker and received great satisfaction from helping others.
Surviving Wayne are his children, Susanne K. "Susie" Crum of Forest, Stanley W. (Nancy) Crum of West Lafayette, and Jeanine E. (Tim) Garrison of Beard; five grandchildren, Renae (Craig) Kollen of Fort Wayne, Stacy (Jeremy) Shell of Cincinnati, OH, Paul Michael Garrison of Greenville, SC, Jill Garrison of Michigantown, and John (Kirstin) Garrison of Honduras; seven great grandchildren, Graham, Jacob and Corinne Kollen, and Jared, Carly and Corey Shell and Ariela Garrison. He is also survived by a sister, Dorothy Beets of Frankfort, brothers, Richard Crum of Michigantown, and Max Crum of rural Frankfort; and sisters-in-law, Patricia Robertson and Alice Robertson.
In addition to his wife, Wayne is preceded in death by his parents, a sister, Mary Pickering; and a brother, Edwin Crum.
Visitation will be held on Friday, June 7, 2019, at Genda Funeral Home in Frankfort, from 4:00 – 7:00 p.m., with masonic rites beginning at 7:00 p.m. Funeral service honoring Wayne will be held on Saturday, June 8, 2019, at 10:30 a.m. with one hour of visitation prior to the funeral service.   Burial will follow in Hopewell Cemetery.  Memorials may be made to Hopewell Cemetery and Beard Masonic Lodge.  Online condolences may be made at www.gendafuneralhome.com.