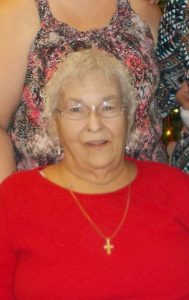 Wilma June (Gascho) Roush, 74, of Lafayette, passed away on Saturday, January 27, 2018, at I.U. Health Arnett Hospital.
She was born May 24, 1943, in Springfield, Ohio, to Alpha Ray and Vela Esther (Bell) Gascho.  Wilma was formerly married to Daniel Edward Roush; he passed away on January 18, 1998.
Wilma graduated from Rossville High School in 1962, and returned later in life to receive her Associate's Degree from Ivy Tech.  Throughout her life, Wilma was an administrative assistant at Green Giant and continued with Pillsbury before retiring from Purdue University.  Wilma enjoyed crafts especially scrapbooking and sewing but her true love and passion were her grandchildren.
Surviving Wilma are her son, Andrew P. Roush, of Knoxville, Tenn.; daughter, Polly S. Roush, of Lafayette; daughter-in-law, Monica L. Stedman, of Knoxville; brothers, Ron (Vicki) Gascho, of Rossville, Sam (Jean) Gascho, of Madison, Wis., and Roger (Dedger) Gascho, of Knoxville; sister, Anne (George) Glick, of Fort Wayne; grandchildren, Jacob E. Roush and Jessica T. Roush; and great-granddaughter, Peyton I. Roush.
Wilma is also preceded in death by her parents and brother, Gerry Gascho.
Visitation will be held on Wednesday, January 31, 2018, at Genda Funeral Home Rossville Chapel from 4:00 to 7:00 p.m.  Funeral service will begin at 2:00 p.m. at the funeral home on Thursday, February 1, 2018, with Pastor Phil Whisler officiating.  Burial will follow in the Middle Fork Old German Baptist Brethren Church.  In lieu of flowers, memorials in Wilma's name may be made to the Tippecanoe County Public Library Foundation.  Online condolences may be directed to www.gendafuneralhome.com.