World War 2 War Hero and life-long Clinton County resident Carroll Johnson was honored at Old Stoney Saturday by the Clinton County Historical Society, Family, Friends and Community Leaders. Johnson served in the United States Army in Africa and Italy during World War 2. He kept extensive records of his experiences, some of which are recounted in a video of the entire Old Stoney ceremony captured on video by Erick Dircks and Anna Emery.
Photos of Celebration of Life Ceremony by Anna Emery and Erick Dircks: CLICK HERE
Facebook Users, CLICK HERE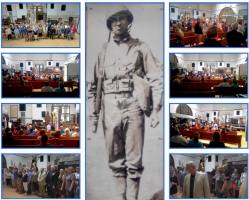 Carroll Johnson's Obituary:
Carroll Cletus Johnson, 99, of rural Frankfort left this life on June 29, 2021 at I.U. Health Arnett Hospital, Lafayette, Ind. Carroll was born on a farm that was called Johnson Road at that time and is now called North Union Road to Herman and Lena Culbertson Johnson on August 17, 1921.
He was a 1939 graduate of Frankfort High School and had belonged to Troop 38 of the Boy Scouts, attaining the rank of Junior Assistant Scout Master.
Carroll served as the Union Township Boys 4-H Leader for 3 years and as a director at Bunnell Cemetery for several years. He was a life member of the American Legion Post #12 in Frankfort for over 73 years, a member of the Clinton County Antique Tractor Club, and had been a member of the First Evangelical Presbyterian Church since 1933, where he had served as a deacon and elder.
On November 9, 1942 he was sworn into the United States Army and served in North Africa in 1943 and on the Anzio Beachhead in the spring of 1944. On August 15, 1944, while serving in the 141 Field Artillery, he involved in the invasion of southern France. On May 8, 1945 when the war in Europe ended, Carroll was in southern Germany. After his discharge from the army on September 30, 1945 he returned to the farm and was the 4th generation of Johnsons to farm it.
On November 13, 1942 he married Mary Lou Thatcher and she preceded him in death in 1965. On March 26, 1967, he married Norma Carolyn Harland and she passed this life on February 13, 2009. In addition to his wives, he was preceded in death by 2 brothers and 3 sisters.
Surviving are his 3 nieces, Janilyn (Jim) Need of Frankfort, Jerilyn (Junior) Geiger of Columbia City and Karla (Chip) Combs of Barrington, Illinois and 1 nephew Jerry Lee (Pat) Ostler of rural Frankfort. He is also survived by 2 cousins, Carolyn Johnson Korb of St. Louis and Susan Klepinger of Elkhart, Indiana. He is also survived by his more or less adopted family Pam and Mike Hensley and their sons Chris and Chad.