Zelma F. Moudy, 79, of Frankfort, died May 21, 2023 at Community Hospital East, Indianapolis, Ind.  She was born February 5, 1944 in Harlan, KY to George & Florence (Hensley) Hamlin.  She married Oran C. Moudy on January 3, 1963 in Frankfort and he preceded her in death on November 29, 2011.
Zelma was a 1961 graduate of Grays Knob High School in Kentucky.  She moved to Frankfort in 1962 at the age of 18.  She was a bookkeeper, working for Schulz IGA in Frankfort.  Zelma was a member of the First Baptist Church in Frankfort.  She enjoyed reading, gardening, flowers, sewing, quilting, crocheting and loved spending time with her family.
Zelma is survived by 2 daughters:  Maricia (Jeff) Wilson of Brownsburg, Melinda (Kirk) Justus of rural Frankfort, 2 grandsons:  Zachary Moudy and Reid Justus both of Frankfort, 2 great grandchildren:  Harmonie Moudy and Zachariah Moudy both of Frankfort, 4 sisters:  Irene Hensley of Lafayette, Wanda (Paul) Wylie of Frankfort, Lola (Eldon) Dilbeck of Steger, IL, Lois (Harold) Birden of Frankfort, sister-in-law:  Helen Hamlin of Willoughby, OH, and several nieces and nephews.
In addition to her parents and husband, she was preceded in death by a brother, Herbert Hamlin, 2 sisters, Angeleen Earls and Glenda Hamlin, and two brothers-in-law, John Earls and Baylor Hensley.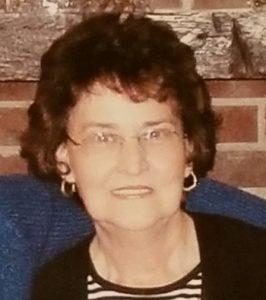 Funeral Service:
 Visitation will be 4-7 p.m. May 30, 2023 at Goodwin Funeral Home, 200 S. Main St., Frankfort.  Funeral services will be 10:30 a.m. May 31, 2023 at the funeral home.  Burial will be in Green Lawn Memorial Park.  Memorial donations may be made to American Cancer Society or Susan Komen Breast Cancer Foundation.  Please visit goodwinfuneralhome.com, where you may leave a condolence.