The annual 4th of July Harvard Terrace Parade was held Saturday morning this year under the beautiful sun shiny sky and great weather.
Erick Dircks and Anna Emery was on hand to photograph and video the parade. You can view photos and video's below by clicking on the links.
Gloria Hendryx enjoyed her moment of conducting the Frankfort's Fun Time Band and can be seen in the first video.
Be sure to head on out to the Frankfort's TPA Park tomorrow for all the fun and festivities out there followed by the fireworks put on by the Frankfort Jaycees.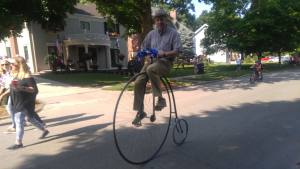 Facebook users view photos here