William "Billy" Joseph Hemmerling, 42, of Brownsburg and formerly of Thorntown, passed away April 7, 2020.  He was born on July 3, 1977 in Frankfort to Fred and Cynthia Diane Hemmerling.  He married Amanda Jones on July 29, 2000 in Ladoga, Ind. And she survives.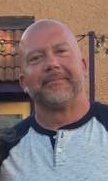 Billy grew up in Thorntown and was a 1995 graduate of Western Boone High School.  He obtained his plumbing license and worked as a licensed plumber for Mission Mechanical in Indianapolis for five years.  He enjoyed working out in Brownsburg, loved his daughter and giving pep talks.
Surviving along with his wife: Amanda are his Daughter: Patia Hemmerling of Speedway; Father: Fred (Jackie) Hemmerling of Frankfort; Mother: Cindy Hemmerling of Lebanon; Brother: Fred (Cindee) Hemmerling, Jr. of Cliffton, AZ; Step-Brothers: Shawn (Rhonda) Johnston of Burlington and Robert (Brandi) Short of Salt Lake City, UT; and Significant Other: Jamie Huffman.
Archer-Weston Funeral & Cremation Center and Clinton County Crematory, 501 E. Clinton Street, Frankfort, are honored to assist the Hemmerling family.  There will be no services held at this time.  Please visit archerweston.com, where you may share a personal message with the family.