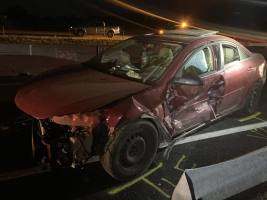 At 8:28 p.m. Tuesday, off duty Indiana State Trooper Scott McPheeters was driving on I-70 eastbound near the 112 mile marker in the construction zone when his vehicle was struck by another eastbound vehicle. After the collision the driver of the other vehicle, 47 year old Jennifer Coomer of Greenfield, attempted to flee the scene on foot and was suspected of being impaired. When other troopers arrived, Coomer allegedly became combative and resisted arrest, she was taken into custody and subsequently transported to an area hospital for injuries from the crash. Master Trooper McPheeters was also transported to an area hospital with non-life threatening injuries.
Preliminary investigation revealed Coomer was driving on the emergency shoulder, illegally passing traffic in a single lane construction zone. She struck the right rear of McPheeters police car and then struck a guardrail. Investigating officers believe Coomer was impaired at the time of the crash. She was arrested on the preliminary charges of operating while intoxicated causing injury, resisting arrest and battery on a law enforcement officer.
All crimes mentioned above are alleged, preliminary charges are merely probably cause for arrest. All suspects are presumed innocent until and unless proven guilty in court. Blood test results for intoxication are pending.
Master Trooper McPheeters is a 19 year ISP veteran and is assigned to the Pendleton Post where he serves as a detective.