Cole Andrew Mundy, 22 months, of Colfax, passed away August 24, 2023 at his home.  He was born November 1, 2021 in Lafayette, Ind. to Andrew & Madison (Corbin) Mundy.
Our little squinty nose, blu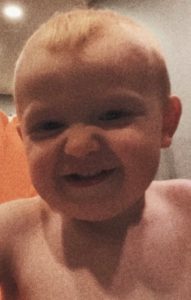 e eyed, smiley baby was loved by many, especially his parents.  Always full of curiosity and energy.  We wish we could have seen him grow up more.  He would have been such a great man.  We know Meme & Papaw will be so happy to see their baby boy, but we here on earth are going to miss that kid.  Cole lit up the room, was a happy lil man and was a joy to be around.  Sometimes the people we have only known for a short amount of time have a bigger impact on us than those we've known forever.
Cole will be forever missed by his: Parents:  Andrew & Madison Mundy of Colfax, Maternal Grandparents:  Jeremy & Andrea Corbin of Frankfort, Paternal Grandparents:  Rick & Jennifer Mundy of Jamestown, Aunts:  Alysa (Jerod) Sutton of Jamestown, Shannon (Sam) Friend of Greencastle, Brittany (JD) Gates of Brazil, Julia (Jacob) Alvarez of Fillmore, Macy and McKinley Corbin both of Frankfort, Uncles:  Samuel Mundy of Jamestown, Malachi, Micah, Matthias, Maverick, McAlister, and Maxton Corbin, all of Frankfort, as well as cousins and great grandparents.
Cole was preceded in death by Meme (Lois) and Charlie Nydegger
Funeral Services:
 Visitation will be 4-6:30 p.m. Tuesday, August 29, 2023 at the Colfax Christian Church.  A Celebration of Life will begin at 6:30 p.m. at the church.  A private family burial will take place in Plainview Cemetery.  In lieu of flowers, donations can be made to the Colfax Lions Club Park or directly to The Mundy Family, P.O. Box 131, Colfax, IN  46035.   Goodwin Funeral Home, 200 S. Main St., Frankfort, is assisting the family with arrangements.  Please visit goodwinfunralhome.com, where you may leave a condolence.