Bill Lee Henderson, 71, of rural Michigantown, Ind., died January 24, 2023, surrounded by his family, at I.U. Health Arnett Hospital, Lafayette, Ind.  He was born February 6, 1951 in Frankfort, Ind. to LeRoy M. & Vera C. (Cox) Henderson.  He married Linda L. Ferguson on September 20, 1975 in Frankfort, Ind. and she survives.
Bill was a 1969 graduate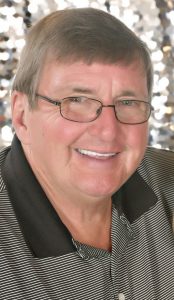 of Clinton Central High School.  He had worked at Rexnord in Indianapolis for 27 years.  Prior to Rexnord, he worked for Biddles Screw Company in Sheridan, Ind. for over 25 years.  Bill was a member of the Eagles Lodge, Kirklin American Legion, and was in a Bowling League for years.  He enjoyed cruises, gardening, spending time with family and friends and never knew a stranger.
Bill is survived by his wife:  Linda L. Henderson of rural Michigantown, son:  Josh (Maggie) Henderson of Frankfort, 2 brothers:  Marty (Debbie) Henderson of Frankfort and Lonny Henderson of Frankfort, and grandson: Devin Henderson of Frankfort. In addition to his parents, he was preceded in death by a brother, LeRoy "Junior" Henderson.
Funeral Services:
Visitation will be 4-8 p.m. Monday, January 30, 2023 at Goodwin Funeral Home, 200 S. Main St., Frankfort.  Funeral services will be 10:30 a.m. Tuesday, January 31st at the funeral home.  Lonny Henderson and Rev. Daniel Lytle will officiate.  Burial will be in Green Lawn Memorial Park.  Memorial donations may be made to the Clinton County Cancer Fund.  Please visit goodwinfuneralhome.com, where you may leave a message for the family.