Congratulations to Frankfort High Schools Emma Pillion on winning the girls state championship at 113 lbs! Also at that event, Clinton Prairie wrestler Rose Day finished 7th at Girls state.
The Clinton Central Bulldog Wrestlers finished 5-0 at Lapel High School on Saturday and were the Invitational meet champions.
Clinton Central had 8 individuals that went 5-0 and won the Neil Muse Invitation Medal- Rick Hadaway, Leland Harvey, Levi Jacobs, Korben Bogard, Caleb Belcher, Leo Deleon, Cael Albaugh and Alex Schultz.
Senior Cael Albaugh earned his 128th career win during this meet, which is the most individual wins in CC wrestling program history.  Clinton Central has finished their regular season 26-5, which is the most wins in a wrestling season for Clinton Central!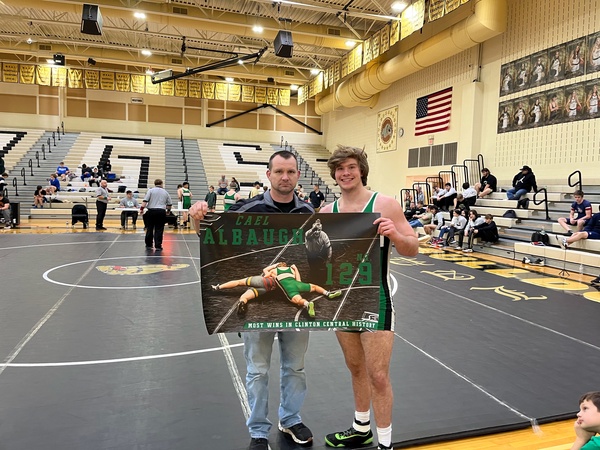 Clinton Central will be hosting the Hoosier Heartland Conference this Saturday January 21, 2023. Conference meet starts at 9am. Coach Faulkner was honored at the last meet with the most CC wins as a coach.