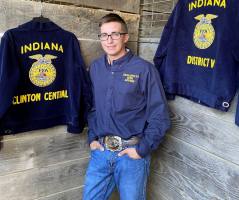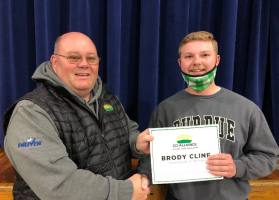 Co-Alliance Cooperative, Inc. is pleased to honor Auston Orem and Brody Cline from Clinton Central High School each with a $1,000 scholarship. This award recognizes 41 local high school seniors who have demonstrated passion for agriculture, planning to study agriculture in college and be involved in agriculture in their local community.
This marks the 14th consecutive year Co-Alliance has made such a contribution to the youth in its trade territory. CEO Kevin Still notes the importance of investing in the local community and rural youth, stating, "These students show tremendous potential. Their dedication and passion to lead can be seen in their essays and in their achievements. We anticipate a very bright future for these young people."
Co-Alliance Cooperative is a member-owned supply and marketing operation delivering innovative solutions for farmer-members and customers across Indiana, Ohio, Michigan, and Illinois specializing in agronomy, propane, fuels, grain, seed, hog production and feed. The customer-focused company strives to fulfill its collective mission to lead with people and technology, grow profitably, give back locally, and remember it is a cooperative.