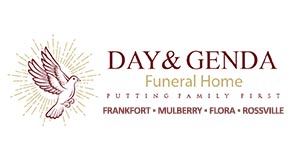 Day & Genda was the recipient of the Award of Excellence from the Indiana Funeral Director's Association at this year's Annual Convention, held in Indianapolis May 22-25.
This award, given to only 3 funeral homes in the state annually, recognizes outstanding funeral homes that are dedicated to pursuing continuing education for their directors and staff, engaged in their local communities through a variety of means, and are also continuing to pursue areas of growth and development for their service of local families.
Day & Genda has been working diligently over the past year to continue to provide innovative services that continue to put your family and its needs first. With the addition of Norm, the grief therapy dog to the staff, as well as the expansion of their pet services line, work with community partners such as CORE and Royal Cleaners, and their Special Olympics held annually each year, they strive to be an engaged community partner.
Pat Day, owner of Day & Genda, shared, "As a business owner, patron of small businesses locally, non-profit board member, and parent, I appreciate the many things our community has to offer and want to continue to be a part of making Frankfort, Rossville, Mulberry, and beyond great places to be."
Day & Genda Funeral Home, a subsidiary of Day Funeral Services, operates in Frankfort, Mulberry, Flora, and Rossville providing family-first funeral services. More information can be available at dayandgenda.com or by giving their team a call at 765.659.3356.