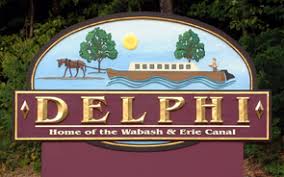 Inside INdiana Business is reporting the city of Delphi is celebrating the completion of $23 million in improvements as part of Indiana's Stellar Communities Designation Program. Delphi was named a Stellar Community in 2012. Since that time, the city has renovated the Delphi Opera House, upgraded downtown building facades and underground water mains, and made improvements to its trail system and streetscapes, among others. Mayor Shane Evans calls the work a "significant milestone."
The city also rehabilitated 10 downtown homes and converted the upper floors of an existing building into loft-style apartments. Part of the trail system improvements included the creation of the Washington Street Gateway Trail, which connects the Hoosier Heartland Corridor to downtown Delphi, the Canal Center and other trails.
The project also included new downtown parking to assist downtown businesses and the Delphi Opera House. You can learn more about Delphi's Stellar efforts by clicking here.
"Downtown Delphi's ambiance is distinctive and inviting, thanks to new building facades, streetscapes and welcoming amenities," said Evans. "And underground, new water mains can now handle the water supply needed for upper-story sprinklers, and, thus, conversion of that space for residential and commercial use. And our trails bring nature into our daily lives. For decades to come, we're likely to refer to yesterday as pre-Stellar and the phoenix rising today and continuing for generations as post-Stellar."
Delphi was selected along with the city of Princeton to become a Stellar Community. Jodi Golden, executive director of the Indiana Office of Community and Rural Affairs, which administers the program, said Delphi was a "golden opportunity to capitalize on its planning, leverage assets, foster regional investment and stimulate long-term, relevant growth."
OCRA, along with Lieutenant Governor Suzanne Crouch, recently announced the city of Madison and the town of Culver as the 2017 Stellar Community designees. Leaders from both communities attended a "Stellarbration" at the Statehouse this week.